Peace and Love Everyone!
I'm hoping your week is going well. Even if that's not the case, the weekend is fast approaching. I'm looking forward to some new movies. I want to see Anna and Khabir Singh. I'll keep you posted on IG.
So the past weekend I saw two great movies. Now I haven't been doing this long, but since I've started my reviews I haven't seen such fun and entertaining movies in a weekend. Maybe I'm exaggerating. Anyway, I saw both MIB and Shaft.
OMG! So I loved them both. Strange how they are not doing better in the box office. Something to think about, I guess.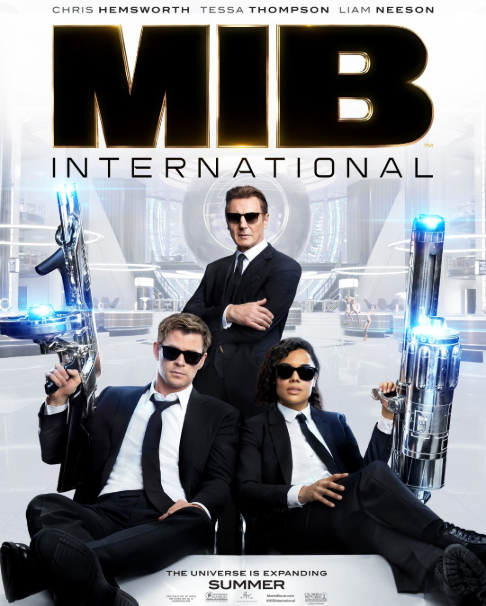 So let's start. MIB's leading stars were Tessa Thompson, Chris Hemsworth, and Liam Neeson. I must say that the Bourgeois twins were great to see, as well. I was afraid of them. 😉 Not sure how new they are to the scene but hope to see more from them.
The only issue I have with this movie is that you didn't see Will Smith's or Tommy Lee Jones' character. I was hoping that both of them would make a cameo somehow.
So if you're an MIB fan, you know the premise. Aliens live among us, and MIB keeps them in check. If they commit a crime, they are punished, if they get caught. So in comes Hemsworth, the know it all agent who works alone. Then there is Thompson who's wanted to work with MIB all her life. She's attracted to Hemsworth and wants to work with him. And yes, she does find a way.
The tale has just begun to weave an entertaining story. I would say see it, if you're there to have fun and not pull the movie apart. I give MIB 🤩🤩🤩🤩 out of 5 emoji starry eyes.
Next up, Shaft. He's a bad….. Shut your mouth. Shaft starred Samuel Jackson, Richard Roundtree, Regina Hall and Jessie T. Usher. It was directed by Tim Story. I must say I usually love his vision of things and that hasn't changed here. I think Shaft was a good movie. It was fun, entertaining, and I loved it.
Other critics have poo-pooed this movie. And yes, there are several issues. One I definitely agree with; how come Shaft (Samuel L. Jackson) looks older than his father (Richard Roundtree). I did have a hard time believing that women were throwing themselves at Jackson. Otherwise, I loved it. I wanted to see it again but didn't have the time.
This Shaft brings the family dynamic into play. Because of Shaft being who he is he sacrifices his family time to do his job. Okay, of course if you're a movie buff you see where this is going.
Still in all, I had a good time. The sound track for this movie takes you through time as we see how things got to the present day.
Looking for an entertaining movie weekend? Add Shaft to your movie choices. I give Shaft 🤩🤩🤩🤩 out of 5 starry eyes emojis.
Make sure to follow me on IG and subscribe here to know when the next post goes up. Hopefully, I'll get to see at least 1 movie this weekend. Maybe it's time for my 'Movie and a Show' post. Let me know what your watching.
Until the next blog…
Peace & Love