We're getting closer to the movie release. OMG! I'm so excited. Time seems to have flown as I've done a review each week.
This week we've come to the end of our movie list. Today I'll review Munna Michael, Flying Jatt and Heropanti.
First, let me say that I've loved Tiger from the first movie. With Hrithik, I wasn't impressed until KKKG. That's when I truly began to like Hrithik and wanted to watch every film. With Tiger, it was different.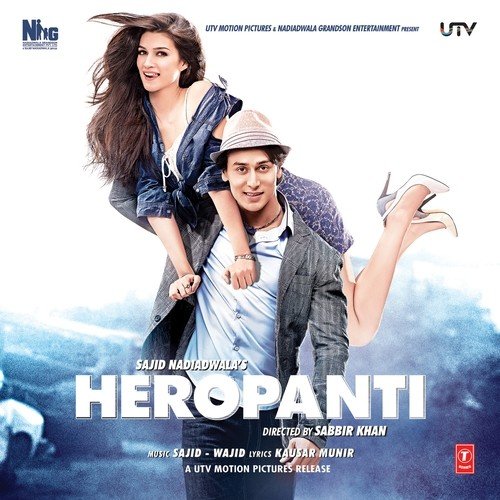 Heropanti was the first movie I saw Tiger in, and I loved it. It was fun, romantic and the action scene were great, but when I saw him dance, I knew I was going to be a fan of him forever. I love dancing and remember the hours it takes to perfect it. It's not easy, and it was evident from his moves that Tiger was a pro.
By the time I realized there was a new Bollywood star on the rise, Tiger had already done Heropanti, Flying Jhatt, and Baaghi. I was definitely late to this party, but I won't sleep on Tiger any more and neither should you.
Heropanti is about a young man (Tiger plays Bablu) who seems to know he's off the chain. He has skills when it comes to fighting, and everyone knows it. Well, those who know him. When his friend elopes with his girlfriend on her wedding night to someone else, Tiger is tight-lipped when attacked by her uncles. The chase ensues, with her uncles and her dad trying to find the missing girl. Meanwhile, Tiger realizes the girl he is smitten by is one of the daughters and sister to the girl who eloped. The fun and action continue throughout the film to the very end.
My favorite videos from Heropanti are Whistle Baja and The Pappi song.
Heropanti gets 🤩🤩🤩🤩 out of five starry eyes emoji's from me. I enjoyed it, even after the fourth time watching it.
Now Flying Jatt took a while to make it to Netflix streaming. That's actually where I first watched it. I canceled my DVD subscription years ago, so I have no clue if it is available that way. (I'm writing as I watch.)
Does anyone have any idea what's going on in the beginning? I was watching for a minute before I realized it was that Jatt reversed the damage done by man. Really? It's a far fetched idea, to say the least, but okay. I watched it anyway.
Flying Jatt is partially comedy. A reluctant hero has to save his village from a billionaire who wants to tear it down. He's afraid of heights and makes the wrong judgment calls on several occasions. His first serious rescue attempt he runs into the car, head first. LOL. But he does get the hang of it after a few tries, and this reluctant hero manages to save a lot of lives.
Unfortunately, by the middle of the movie, I'm bored. I guess because it just seemed like another superhero movie, seen one seen them all. Right? I sincerely hope not; I enjoy those movies. What did make it cute were the songs and the dance routines. I enjoyed Bhangda Pa, and Beat Pe Booty brought my attention back to the film.
One of the things that I liked about the movie is how it dealt with the issue of toxic waste and waste in general. We, human beings create a lot of waste, most of it toxic. The companies make it, but we don't dispose of a lot of it correctly, we litter, and pollute our waterways. We don't make companies responsible for the waste they create. Instead, they dump where they want to, infecting waterways making it undrinkable. The trash produced is killing off our wildlife, and we don't stop. Do companies not realize that we are all affected by it. Even they and their children are affected by it and money won't save them.
Flying Jatt is okay, I give it 🤩🤩🤩 out of five starry eyes emojis. I heard they're actually making a part two.
The last movie for this review is Munna Michael, which my daughter and I saw and readily enjoyed. We were there on opening day in North Carolina to see it. We enjoyed it so much. I purchased the DVD when it was released. It's presently only streaming on Erosnow.com, and if you bought it through Amazon Prime, it doesn't have subtitles.
Munna Michael takes us through the life of a dancer who instead of working as a dancer in Bollywood he goes into dance clubs to compete and scam people who think they can dance. It works at first until his group is band from the clubs. The group routines are fun, and of course, Tiger is in rear form. Watching him dance is a fascinating thing.
Now it gets strange when looking for a club to run game, Munna bets the wrong person and ends up working with a gangster. I've probably said too much already. But this dancing fighting character has a lot of twists and turns throughout the movie. It's fun.
There is at least one problem, Bollywood seems to have problems finding a competent dance partner to play opposite Tiger. The partnership in Heropanti and Baaghi works, mostly because dancing isn't the main focus of the movie. Even the routines that Jacqueline Hernandez does opposite Tiger work. But each time they create a dance movie (i.e. Student of the Year 2 and Munna Michael) the partner for Tiger has something lacking. Munna Michael has this issue, majorly. Even if you wanted the full focus on Tiger, his partner should have enough rhythm to keep up and be on beat.
There are of course a few more issues with Munna than what I've mentioned, but if you can get past the dancing of his partner and have fun with the film, it's worth watch. I give Munna Michael 🤩🤩🤩 and 1/2 out of 5 starry eyes emojis.
That was our last movie for the War Countdown. Next Wednesday, I'll discuss my team for the movie War, which will be the day it is released. I'm going to see it with my children that Saturday, so I will do a follow-up review when it's all said and done.
Is War worth the hype? The trailers and music videos sure make it look like it's scorching. We shall see. Usually, Yash Raj films does a great job.
If you like romance, check back on Saturday for the next installment of my fan fiction to Fame.
Until next week.
Peace & Love