Peace and Love Everyone!
Hope you've had a great week so far. Mine has been okay. My work days have really tired me out.
We're close now. A couple more weeks and War will be out for us to see. I'm truly looking forward to it.
This week I've watch 3 Tiger Shroff movies. I watched Students of the Year 2 (SY2), Baaghi and Baaghi 2. I wanted to make sure I've covered his movies before October 2. There of course are only a few. Hrithik has been in the business much longer than Tiger.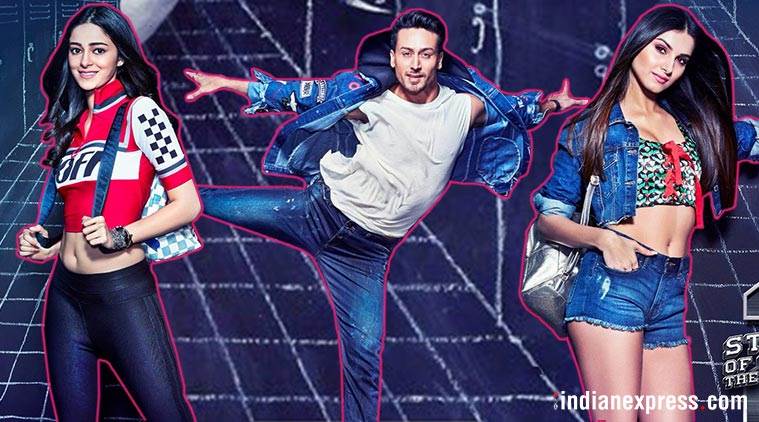 I wasn't able to see this movie in the theatre but I was able to stream it on Amazon Prime. I wasn't sure what to expect from this film. I had seen the first one, but I wasn't really a fan. The only reason I wanted to see this one is because of Tiger. I love watching him fight and dance. I wanted to see how the directors utilized his talent.
I must say that Tiger is still working on his acting, and I hope he continues to do so. The looks that his gives while more expressive are not distinct in this movie. However, I must say that his voice inflections have improved over the years with each film.
That being said, I didn't like SY2 very much. The story line was poor and to some degree unbelievable. To think that Tiger's movie rival remotely thought that he was something special and Tiger was so clueless. At his age in the film he should have had more of an idea that he was being played. I understand not being exposed but to think everyone is your friend. Seriously? And even after being mistreated, he took the guy at face value. How stupid can you be? I know it's just a movie, but the writers should have done better.
Please explain to me, why when Bollywood does these dance movies, the girl they chose and the crew that stars opposite Tiger are so off. I see the background dancers that perform with Tiger, can they not find any to star opposite him that are at least close to his ability. It looks so tired when they dance and cannot compete on his level or even close to it.
I must say that at least the young lady opposite him this movie was better than the last dance movie.
Other than seeing Tiger dance and watching the fight scenes at the end, I didn't like the movie. Also, the ladies roles were so weak. Can they not find a leading lady to star opposite him that fits, shows chemistry?
Now for Baaghi….
Loved this movie! Baaghi was action packed, hot love story! A love that is not returned and turns to a kidnapping. A love that is sabotaged. Baaghi was an awesome movie. Watching the fight scenes was exciting. Wanting the two love birds to meet again to see how their story develops.
The choreography in this movie is awesome. Not always believable, but you have to have a bit of movie magic. Did you know that Guruswamy is actually Grandmaster Shifuji Shaurya Bharadwaj? He doesn't usually act in the films he works on but they convinced him. I believe it became a great role.
OMG Baaghi 2! We're on fire here. The fight scene at the police station is fabulous and the movie winds you through a desperate woman's desire to find her child. She is so desperate that she calls her first love to help her. But it's not easy to find a child no one wants to be found.
This Baaghi is different from the first. I thought it would be a continuation, but it is a whole different story all together. While there aren't many dance scenes, only one with Tiger, the fight scenes are awesome. The directors, producers and choreographers have out done themselves. It only gets hotter.
The problem is that I wasn't able to stream the movie at all. I was able to stream the first one but not two. Luckily, I own both videos. After the fight scenes in the first one, I had to own the second for sure. And we can definitely see the differences in Tigers expressions and voice inflictions. Experience is definitely key.
Well, I would definitely recommend that you see both Baaghi and Baaghi2. I would rate both movies 🤩🤩🤩🤩 and 1/2 starry eyes emoji. I would have said five for both, but there were a few fight scenes that didn't run as smoothly as they should. Either way, both are s must see.
Two more weeks….
Check back next Wednesday for the last look at Tiger Shroff movies.
Peace & Love
Oh yeah. My fan fiction does continue Sunday.